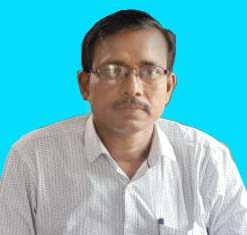 Principal's Message
Dr. Ratan Kumar Samanta, Principal
MSc, PhD - Vidhyasagar University
email: ratan.samanta@gmail.com
"Arise, awake, and stop not till the goal is reached" --Swami Vivekananda
The college was established in 2014 with a vision to empower the youth of the surrounding area as they lacked the opportunity to pursue higher education. Earlier, after their Higher Secondary Examination most of the underprivileged boys and girls were unable to pursue higher education in distant colleges due to poverty and lack of communication to the towns from the remote neighbouring villages. Many of the meritorious students from the neighbouring schools lagged behind due to unavailability of resources, proper guidance and institutional support to enhance their knowledge to face the world beyond their homes. Our founder and Governing Body President Dr AnindyaKishorBhaumik wished to redress this issue by providing holistic education to the youth and preparing them to excel in today's competitive world. With the support of his family and his generous neighbours, he established this institution as a beacon of higher education. Though the college is still at its nascent stage and has to face several obstacles like financial constraints, we are trying our best to overcome all these hurdles and advance far ahead with the sole objective of providing quality education to the youth and make responsible citizens and successful professionals out of our eager young students.
The college has a well-furnished library with a reading room, sports equipments for general and Physical Education students, and a well-equipped Geography laboratory and a smart classroom with an LCD projector. One NSS unit has been running in the college since …
Our teachers are a dedicated bunch and provide individual attention to each student. Class tests are conducted regularly, and this is reflected in the students' academic performance. The result of the University Examinations in the past few years have been quite satisfactory.
The students are regular, well-behaved and disciplined and take part in various cultural and sports competitions in the inter-college meets.
The ultimate mission of the college is to provide a holistic education to the students that not only contribute to their professional success, but also boost their confidence and develop their personalities, to enhance their creativity and to inculcate moral and ethical values in them.
I believe the Governing Body, the teaching and non-teaching staff, the students and their guardians, along with the local people, endeavour their best to create an atmosphere that is conducive to learning, thus making this institution a successful establishment and bring about real social change.
-- Dr. Ratan Kumar Samanta, Principal